Things To Know Before You Book
We're so excited that you booked an appointment with us! Your experience at Azarue's Bridal & Formal will be unlike any other dress shopping experience, and we are genuinely excited that you chose us to find you the dress of your dreams. Here are a few tips to make your appointment at run as smooth as possible:
Set a wedding date. Most dresses take up to 6 months to produce, and all dresses require alterations, which can take an additional 2-3 months. If your wedding date is rapidly approaching, that's OK, we've got your back! Your expert stylist will help you navigate the best option for your big day, so leave the stress to us!
Determine your ideal budget for your dress and communicate that to your stylist. Our job is to find you a dress that won't break the bank, so being upfront and honest with yourself and your stylist will help us find you a dress that you love everything about – including the price!
Be on time to your appointment. In most cases, there will be appointments immediately before and after yours.  If you arrive late, it will reduce the amount of time you have to try on dresses. 
If you plan on wearing heels at your wedding, we recommend bringing a comfortable pair about the heel height you will be wearing on your big day to use with trying on the gowns, as it does make a difference. 
Plan to bring any key decision makers with you. When you find your dress, your favorite people won't miss that moment! If someone can't join you, we can Facetime them. 
6. Due to the valuable and delicate nature of the merchandise, and to ensure each bride can enjoy this memorable time, children are not permitted in appointments.  *This policy is strictly enforced
7.  We want to ensure that brides who are seriously looking to buy their dress are accommodated. We require a pre-authorized credit card to reserve your stylist & dressing room. There is  a $50 fee for failure to show or for cancellations made without 48 hours notice, for our weekday appointments.  This policy affords us the opportunity to offer the appointment to someone else.  
8.  Walk-ins are always welcome.  Although, appointments are highly recommended so that a stylist may assist you throughout your shopping journey.  If stylists are in bridal sessions when you arrive, walk-ins will likely experience a wait time.
8. We understand Saturdays are the most convenient day for bride's and their crew to shop.  Please understand Saturdays are also our busiest day!   A non-refundable appointment fee of $50 is required for all Saturday Appointments.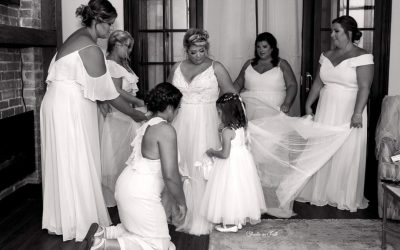 Morgan Bravo's Elegant Vintage Wedding By: Sarah Ramsey We are so excited to introduce Azarue's bride, Morgan Bravo, in this week's blog post! Morgan's wedding was absolutely stunning in every way with an extraordinary venue, a sentimental first look, and an exciting...
Follow us on Instagram @azarues