The Azarues Legacy
Founded in 1976, family owned and operated for three generations, Azarue's has been a premier salon respected in the bridal fashion industry for decades.
For more than 45 years we have provided a setting unique from other bridal shops for our personal and customized approach to assisting the bride. We see every bride as an individual that deserves a memorable experience when trying to find the right gown. The company's mission is to deliver only the finest in fashion and selection while providing unmatched service and attention to detail.
Azarue's has repeatedly been awarded The Best of Weddings by The Knot,
Best in Bridal by SB Magazine,
Reader's Choice Award for Best Bridal by The Shreveport Times, and
Favorite Bridal Shop and #1 by Locals Love Us consecutively for the past 10 years.
Azarue's was also the final recipient of the prestigious Retailer of Style & Excellence Award presented by the Dallas Apparel Market. 
Rebecca ~ Owner
A registered bridal consultant with more than 30 years experience in the bridal industry, Rebecca says growing up in the family business she learned at an early age the values of providing excellent customer services and earning the confidence of customers. Rebecca adds that one of the most rewarding things about her job seeing her former brides now shopping with their daughters for wedding gowns, proms, etc. Rebecca's knowledge of the bridal industry and eye for fashion are an invaluable asset in the daily operations of the store. 
Lillie ~ Founder
In 1976 Azarue's Bridal & Formal was established as a quaint bridal boutique to complement the existing family business, Azarue's Flowers & Gifts, a highly recognized florist established in 1970 which specialized in weddings. At the age of 95 Lillie remains a pillar in the business. She has seen many wedding trends come and go, and fashions come full circle in her decades of experience. Lillie believes in our stylists striving to uphold the values established in our early years and in our continued dedication to providing unmatched service because that is what truly sets us apart.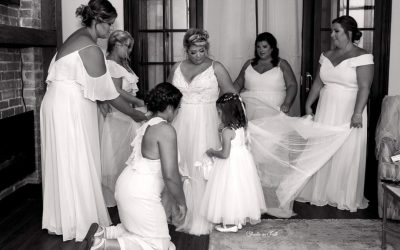 Morgan Bravo's Elegant Vintage Wedding By: Sarah Ramsey We are so excited to introduce Azarue's bride, Morgan Bravo, in this week's blog post! Morgan's wedding was absolutely stunning in every way with an extraordinary venue, a sentimental first look, and an exciting...
Follow us on Instagram @azarues